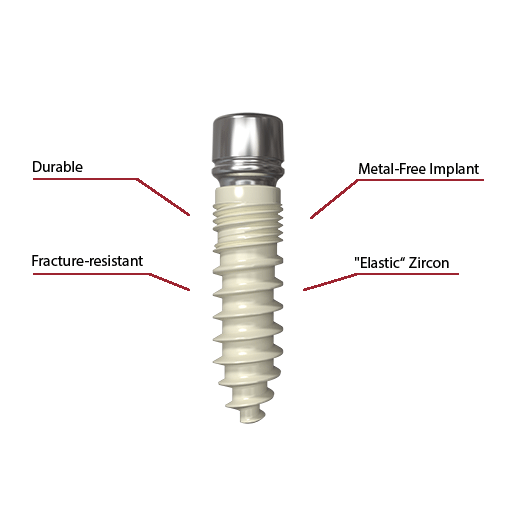 World Premiere "Champions (R)Evolution White" Implant
¡­the "elastic" zircon implant made of the patented pZircono
The Champions
(R)Evolution
®
White implant made of the patented tough, elastic pZircono stands for the new generation of ceramic implants and for
the durable, metal-free, and biocompatible alternative
to the common implant systems. Unlike the previous yttrium oxide-stabilized ceramics, the
(R)Evolution
White implant is made of pZircono material with platelets enriched with rare earth elements. Compared to the yttrium oxide-stabilized ceramics, the pZircono material is
more fracture-resistant, and achieves better long-term results.
So far, drawbacks of many zircon implants have been hydrothermal instability, a higher risk of fracture, poor osseointegration because of surfaces that have not been hydrophilic enough and that have not been roughened well enough. In addition, they have been expensive. After extensive research and development, Champions-Implants overcame these drawbacks with the major breakthrough of the
(R)Evolution
White implant. Due to its higher elasticity, the implant is resistant to alternating loading and allows for improved osseointegration ¨C all this cost-effectively. Since the assembly of the
(R)Evolution
White
®
implant corresponds to the established titanium Champions
(R)Evolution
®
implant, the customer can still use the wide range of the
(R)Evolution
accessories in the routine dental care in the dental office.
The implants will be available from the end of this year.